It's been a crazy term so far -- we have a big presentation coming monday so I have been pulling off around 10-15 hours at school almost everyday trying to polish up my stuff. As a matter of fact I would still be working at school right now if I didn't already have a previous engagement. All my computers are either broken or malfunctioning this way or another so when I am not at school I have nothing better to do but to update my blog.
Anyway, this Jack Sparrow is for a 3D modeling assignment where we have to model our own superhero. I was going to model batman for a detailed muscle-anatomy study, but I really like Jack Sparrow way more than batman. I took this assignment further (as a challenge to myself) by rigging, lighting and rendering it. This is my first time modeling a character, rigging a character, lighting stuff, and rendering sequence.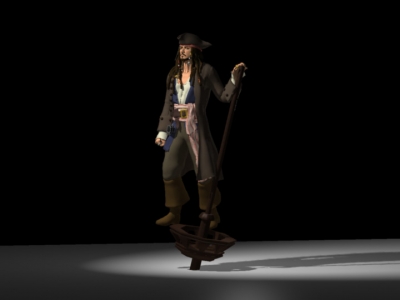 The youtube video turned out kind of small and blurry, but this is the actual rendered size of the video.